Bounce houses offer great opportunities for children and likewise adults to have fun at events while engaging in physical activities. These activities often serve as workouts for people as they jump up and down in the bounce castle. Consequently, they always look forward to events that offer them this exciting opportunity.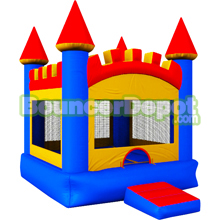 If you're in the party rental business, there are certain factors you need to consider when planning to buy a commercial bounce house if you really want to keep your customers happy. People who patronize you do so with the intention to make their guests enjoy every moment of their party and then go home with sweet memories. Anything short of these will make them feel disappointed.
Since we are stakeholders in the industry, we at Bouncer Depot have come up with a list of factors you should consider when planning to buy a bounce house for commercial purposes. Here is our list:
You Should Consider Safety First
The safety of the people who are going to patronize your business should be paramount in your mind when choosing commercial bounce houses. You must ensure that you really find the one that is safe for the fun enthusiasts. To achieve this, you should check the safety ratings of the various products on the market to be sure you're making the right choices. We are a direct manufacturer in the market and majority of our products are made with safety consciousness. You can visit our website for a number of commercial bounce houses for sale.
Check for the Quality of the Material Used
You should never compromised on quality when it comes to choosing the best commercial bounce houses. This is so important if you want to guarantee a return on your investment. The material make up of the product will determine to a large extent its durability and safety when put under rigorous commercial uses. Therefore, you should take your time to look for bounce castles with the highest quality ratings before making the final decision to buy. So, which materials should you look for when choosing commercial bounce houses for sale? It is recommended that you look for bounce houses made out of top-notch PVC tarpaulin.
You Should Consider Your Budget
Another very important factor you should consider when buying a commercial bounce house is the issue of pricing. Although bounce houses are sold for varying prices depending on the manufacturer, the quality and the material make-up, your budget will largely determine your final choice. But whatever your choice is, never compromised on quality and safety. This is because the durability and safety of the bounce houses you're buying will determine to large extent your return on investment or whether, you're going to remain in the business for long. The bottom line is that if your budget is reasonable enough, you can always find one with manageable price but of good quality that is suitable for commercial purposes.
Consider the Number of Stitches and the Capacity
When looking to buy bounce houses for your rental business, you should consider buying those made for commercial purposes. There is no doubt that you will be disappointed if you go for the residential ones, which often lack the capacity to withstand rigorous activities associated with open events. It is also important that you look at the number of stitches on the bounce houses you want to purchase before making the final decision. You can find those with double, triple or even quadruple stitches.
Adequate Warranty
When choosing your commercial bounce house, be sure you're buying from a manufacturer that offers a good warranty and great return policy. It is recommended you look for company that offers at least 3 years warranty.
Bouncer Depot is a 100% direct bounce house manufacturer that offers you unbeatable 3-Year Warranty, and 30-Day Return Policy. Please note that there is no exception and indoor facilities and commercial water slides are also covered with 3-Year warranty. We also allow you to make custom orders with a guaranteed price match. Our products are well known throughout the United States, Canada, Latin America and Europe. We are the first bounce houses manufacturer that comes to mind for any established party rentals in the industry.
In Conclusion
Overall, commercial bounce house rental is a big business. There will always be the need to keep the kids happy during events, especially in summers. Thus, if you are able to make the right considerations from the onset, your business will certainly hit the ground running.