You've probably heard of a shooting range, and you may have participated in archery with a bow and arrow at a summer camp.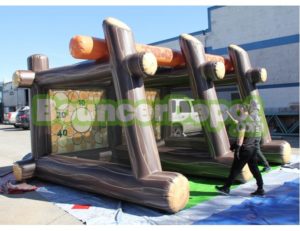 Yet, have you ever had the opportunity to experience the rush of axe throwing? It's often categorized in the same way as shooting ranges and archery, but fewer people have ever had the opportunity to try it.
It's often marketed for birthday parties, company retreats, and bachelor parties despite the fact that a lot of people worry about its safety. With our new inflatable axe throwing game, you don't have to worry about any of that! Keep reading for why inflatable axe throwing will be a perfect and safe party addition.
Why is it great for parties?
Firstly, axe throwing is something that a lot of people have heard of, but most people haven't done. Having this game at your party will allow people to try something new. Better yet, you can include everyone at the party in this! Since our game doesn't include any dangerous pieces (no metal or sharp edges), anyone can play. Kids and adults are welcome, which makes it much safer compared to real axe throwing.
How does it work?
Our commercial grade inflatable axe throw can be used indoors or outdoors and is a total of 170 pounds. Once you set it up, you can have two individuals face off and throw axes at the Velcro scoreboards to see who amasses the highest number of points. Everything is enclosed, so neither participants nor onlookers will get hit by flying axes.
Is it safe?
Yes! Safety is our top priority. As previously mentioned, there are no sharp edges or metal axes included in this game set. With Velcro scoreboards and targets enclosed in the inflatable itself, you'll be sure that everyone stays out of harm's way.
Why is it a must have for a party rental company?
If you're a party rental business, this axe throw is a greater addition to your stock of inflatables because it's different than most others that your clients will have seen. Sure, most might have seen inflatable slides and obstacle courses but an axe throwing game?! That'll get people excited. Since most individuals likely won't have had a chance to throw real axes, they'll be dying to rent this one from you just so they can get hours of entertainment from it. Imagine it now, a mom rents it for a 7-year-old kid's birthday party, but it's used the entire time by their dads! You can just imagine how likely it is for this game to have a line.
Final thoughts
An inflatable axe throwing game is a great investment that'll make for hours of entertainment. Book one for your next party. Not only will it be a hit, but you don't have to worry about any safety concerns associated with real axe throwing accidents. Head to Bouncer Depot today or call 877-577-7119 for more information.