If you are an event organizer that plans birthdays, anniversaries and special events, then you know how important it is for potential clients to have a bounce house during their special event.
Another thing that you should know though is that it is wise to invest your money on a high quality commercial inflatable jumper that you will be able to use for a long time. After all, you do not want to fill your inventory with lots of low-quality products that are not attractive and even worse, not safe.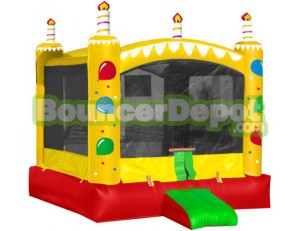 Commercial grade bounce houses are ideal inventory additions to any new or established rental company. Made to last for a long time, commercial bouncers are ideal to let the children burn up all the excessive energy they have. Available in different designs, bouncers can easily blend with any party theme. It is a guarantee that all of the parties that you plan will be a huge success since children will surely feel the fun in the atmosphere once they see the inflatable jumper.
However, if you are just getting started in the business, you should find a way to make the most of your money so that every penny you spent will be well invested. A way to do this is by finding a manufacturer who offers wholesale prices on bouncers and is located in the USA. At first, glance, buying bouncers wholesale from China can be a worthwhile option to consider, however, thinks twice before you make your final decision.
By purchasing your bouncers from China manufacturer you can save a couple of hundreds of dollars at you initial transaction and once you receive your item it will become apparent that the look and the quality of the bounce house are not the same as American made bounce house. Moreover, the majority of US bounce house manufacturers offer a warranty which you can not get from China manufacturer.
Buying bouncers wholesale is not just about saving money. It is also about investing your money into a safe and long lasting inflatable play structure that can be used for years to come.