There are lots of businesses that are geared towards children's entertainment. This is because children make up a huge majority of the population. There is also the fact that children are much easier to please. You do not have to go far just to put a genuine smile of happiness on a child's face. If you plan on investing your money in a business that mostly entertains children, then maybe you should consider investing in commercial water slides.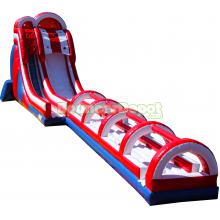 Investing in commercial inflatable water slides is a very profitable business. This is because parents love to throw parties for their children. Since most of these parties are themed, you will find that your water slides will always be in demand. If you know your way around your neighborhood, talk to your friends whose children's birthday are coming up. Ask them if they want a water park themed party and offer to rent out your water slides. You can offer to put up the water slides for free so that your friends children can give it a try. Once their parents see how much fun they are having, they will surely agree to take your offer.
Another way to attract customers and make some money with your commercial water slides is advertising it in yellow pages or online. This could bring you lots of potential customers who want to rent the water slide during hot summer days.
Having a water slide in a backyard is a better alternative for parents instead of taking their kids to public pools. Once parent found out that they can have their own water park in their own backyard they will call you next time when they decide to take their kids to public pools.
Putting up a water slide by the beach is also a good way to earn easy cash. Since parents are always afraid that their children might get lost on the beach, they might be very happy to turn over their children to you for a reasonable fee especially if you have prepared a set of precautions that will really impress them.
Earning money with your water slides may be a bit of a challenge at first. This is normal for all new startups especially if they are new in the inflatable industry and don't have customers yet. However, once your neighbors find out about your new addition to your existing inventory they will certainly call you during next hot summer weekend.
Make sure to visit our FAQ page to find out answers to lots of questions and make an informed decision when buying a water slide.