You can have so much fun splashing in your pool with inflatable water slides. Want to generate side income? Why not ?! Commercial water slides are made of heavy duty vinyl and designed to be used for commercial purposes by renting them out. You can find various types and sizes of inflatable water slides for sale in the market. These items have huge demand during hot summer time. You can also use this in your own backyard. Your kids will surely love sliding on this inflatable water slides and splash in the pool.
We at Bouncer Depot have many slides and inflatable jumpers for sale that can provide you lots of fun. Slides come in many sizes, forms, and colors. We have small as well as big inflatable water slides. Our water slides are guaranteed to withstand heavy use and serve you for years to come. Every inflatable made in our factory comes with 3-year warranty.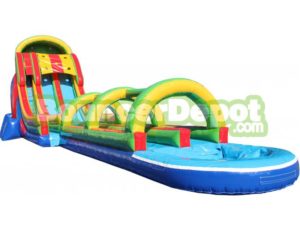 Bouncer Depot is a well-known and reliable manufacturer of inflatable water slides. With over 10 years of experience, we could attain the trust of our customers by providing exceptionally high-quality commercial bounce houses. All our units are time-tested and we can proudly announce that there are still units in the use that were made eight or nine years ago.  Our goal is to provide products and services that will satisfy even the most demanding customer and we want every client to be happy with his/her purchase. Therefore,  Bouncer Depot offers the 30-day money back guarantee on all purchases. If for some reason you're not satisfied with the product you purchased you can ship it back within 30 days to get a refund.
The nationwide average cost to rent an 18 feet water slide for eight hours varies from  $200-$300. The time to deliver, setup, take down and to clean the unit after use shouldn't take more than 3 hrs. This means that potential water slide owner can make in average $500 during weekends by working approx 6 hrs. (3 hrs per day). While it may not sound the best investment for some folks it is unarguably one of those hard to find businesses where you can get your money back so quickly.
Whether you're looking for an inflatable slide for your own use or for commercial purposes Bouncer Depot will be glad to assist you with your purchase. We strive to provide exceptional customer service to all of our customers and provide answers to all your questions and concerns. We believe that we need to pass our experience and knowledge to every single customer so they can make an informed decision when it comes to purchasing an inflatable water slide.