More and more people are looking for water slides for sale, especially for some summertime fun. Commercial bouncers can provide hours of fun, both for kids and even for adults. Oh, and not to forget that jumping around could actually be a good form of exercise for your kids. Here are some tips when you are looking for inflatable jumpers for sale.
Your best bet to get the cheapest deal possible is to directly purchase from bounce house manufacturer. Manufacturers often offer you the best price possible out of the factory. If you purchase from shops, agents or distributors, they would have already marked up the price for their profit margin. So when looking for bouncers for sale, find reliable manufacturers. In fact, if you are looking for wholesale bouncers, you can get them at a much more cheaper price from manufacturers.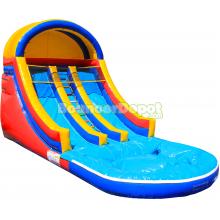 When you are looking for inflatable jumpers for sale, you should always look for ones which are made in America instead of the ones from China. Yes, China made bouncers are often cheaper, however, they often lack in quality and durability. Common problems found in low-quality China made bouncers are single stitched bouncers, vinyl containing too much lead, unsafe water slides and much more. The American made inflatable bouncers come with the highest detail and precision to ensure quality and safety.
Another important thing to keep in mind when you are looking for bounce houses for sale is the warranty that comes with it. Commercial grade inflatable jumpers should come with an at least 2-year warranty. Bouncer Depot offers a solid warranty of 3 years. This will give you the peace of mind you deserve, and you can simply enjoy the products you purchased instead of constantly trying to patch or repair it.
So remember, when looking for to purchase a commercial grade play structure, keep in mind these three important factors. It will ensure that you make the best purchase of inflatable jumpers, moon jumps or bounces that you will not regret in many, many years to come.