Bouncer Depot is a Direct Manufacturer offering huge selections of commercial inflatable bouncers at wholesale prices for more than ten years now. Being the leading manufacturer of inflatable, we are using modern technology and employing an excellent team of designers that demonstrate a new and original approach to products.
Each product has 3 Year Warranty and guarantees durability with 100 percent products made in the USA. Moreover, inflatable water slides built by Bouncer Depot also come with 3-year warranty.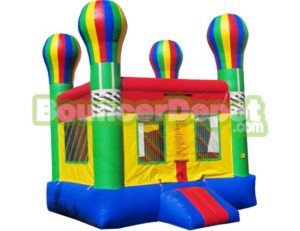 Children are known for their active behavior, making them prone to accidents and injuries. Having a safe place and safe toy to play, whether it is indoors or outdoors, are the major considerations. If you want your kids to enjoy childhood without worrying about your kids' safety, thus having moments for yourselves, then inflatables from Bouncer Depot are the best for them. Bouncer Depot offers colorful and spacious bounce houses that will keep children busy. These inflatable jumpers can be used by kids of any ages and can be placed and used both outdoors and indoors. Your kids will surely be impressed with these inflatables.
Bouncer Depot also offers commercial inflatables like slides and inflatable water slides. You can choose from huge varieties of wet or dry slides and slip and slides offered in our website. The whole family will enjoy this water attraction in the hot summer season. With other designs, you will surely experience a tropical adventure and make this summer season an unforgettable one. Make this summer a carefree and enjoyable one with the whole family with inflatable slides.
Ever wonder if slides and jumpers can be combined? Well, the answer is yes. Bouncer Depot also offers inflatable combo units combining conveniently two kinds of inflatable: the jumping area and water or dry slide. With over 30 designs and models to choose from, purchasing one is like getting two units at almost the price of one. It is getting more at less price, very convincing!
Bouncer Depot, the bounce house manufacturer, and wholesaler,  is not only offering inflatable slides and jumpers but a whole range of inflatable games and playgrounds. These commercial inflatables are suitable for occasions like the country fair, birthday or any special moment. Comes with different designs to suit kinds of interactive games and accommodate numbers of children and also adults. We also offer obstacle courses inflatable playground that will surely bring enjoyment for every occasion. You do not have to plan or think of different games for parties; just one of these will be enough. Each model is designed to satisfy even the most demanding customers.