Every parent cherishes the moments of surprise, pure joy and laughter of their child. Celebrating birthdays are always full of these heart warming times; watching your child open presents, see all their friends and family and of course, who doesn't light up when the cake comes out? The traditional games are always fun, especially when your child experiences them for the first time. One way you can hit a homerun for the next birthday, making it a day they will never forget is finding bounce houses for sale.
There are some really great themes to decorate and create games around these days. They don't all cost a ton of money either. You can do an astronaut theme with moon cake, spaceships made from painted cardboard boxes and have all kinds of space related games. It wouldn't be complete without a bounce house, for there is nothing better than to feel almost weightless while jumping and colliding into your friends. Bouncer Depot has commercial bounce house for sale to fit any budget. Imagine the joy on your child's face when they see the blown up space walk!
Summertime is so much fun to have a birthday party. No school, warm, beautiful weather and of course adding in outdoor water activities make for great memories. You can do a tropical theme or beach theme and have a sandcastle making competition, decorate with palm trees and vibrant colors. The ideas are endless! But the best part of all is to have a commercial inflatable waterslide! Your kid will flip over having a waterslide in the backyard for all their friends to enjoy because these things are so awesome – you will probably get in on the fun. You can easily find bounce houses for sale at the Bouncer Depot which are high quality and great deals.
For older kids, have a bonfire night for a birthday party your child will never forget. Plan for s'mores and even make it a sleepover with tents in the back yard. Supervise the kids as they cook hot dogs on sticks and toast marshmallows over the fire. To really bring it up a notch, get an inflatable obstacle course for the kids to race on with a prize going to the winner. When the night winds down, tell ghost stories and have hot cocoa before sending the kids to their tents. It will surely be a night to remember!
With the popularity of Pirates of the Caribbean movie series, many kids (boys and girls alike) love pirates. Make a birthday party around the movie series and have pirate themed treats like root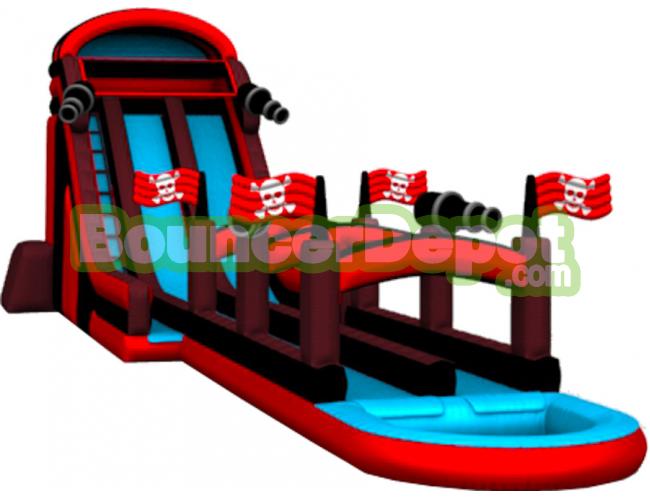 beer and beef jerky. Decorations are so much fun for a pirate theme, old barrels and boat parts can be placed about your home or yard. Don't forget the pirate costumes! The perfect addition to the décor is a giant pirate waterslide, with inflated jolly rogers all along the way down. The kids will have a blast as they splash into the pool at the bottom! Commercial water slides are more affordable than you may realize, so check them out and see if they fit in your budget.
Birthday parties are a celebration of your child's life and milestones, joyous occasions in which family and friends can get together and share a piece of their life. Make it an incredible day for everyone, especially your sweet little one and check out the commercial bounce houses for sale!