You need to rent a bounce house for an upcoming festival for kids and grownups, of course. You've been to the mall and have seen how kids love giant inflatable buildings and structures, and jumping, sliding and bouncing on inflatable and commercial water slides. For your approaching fest, you believe that this is the best way to entertain the kids while you make up for lost time with their oldies who'd be more interested in the barbeque. With a portable amusement park which easily inflates or deflates, you can introduce the kids, and yes, adults too, to a variety of fun things to do. And what's even better, bounce houses are easy to transport and store, and are safe and colorful.  And so, having considered all that, the next step is to know how much renting a commercial bounce house would cost.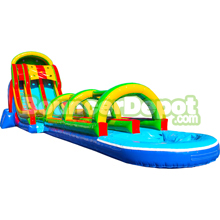 In Long Beach, California, for an 8 hour rental of castle bounce house, for instance, expect to pay 99 dollars excluding delivery and installation charges which may starts from $25 up. Extensions are also possible for an additional fee – for instance, overnight extensions may cost an additional $25.  There are cheaper bounce houses and inflatables such as the Fun House which cost $70 for 8 hours. Mini-bouncers start at $65. If budget and space are no problem, you can opt for bigger bouncers and therefore more fun.
Prices slightly vary from coast to coast, city to city. In New York City, bouncy houses start from $150 for a regular rental plus add-ons for overnight options, deliveries and installations. Some companies offer free installations and deliveries. Newer models, of course, offer more fun with their updated bouncy house and inflatable unit designs and cost more. For really big items such as 56 Ft Obstacle Course prices start at $400.00. The even bigger 22 ft. high Tropical Water Slide the prices start from $550.  Not too cheap but they are a guaranteed treat for your guests. These prices are just what you'd expect to pay in average in other states as well.