The party was a smashing success! You booked two new clients for future birthday parties, your client and family were thrilled with your theme, set-up and even the cost of it all. Now it is time to break it all down and store your bounce house water slide for the next gig. The key here is to do it properly because the last thing you want is a moldy inflatable water slides.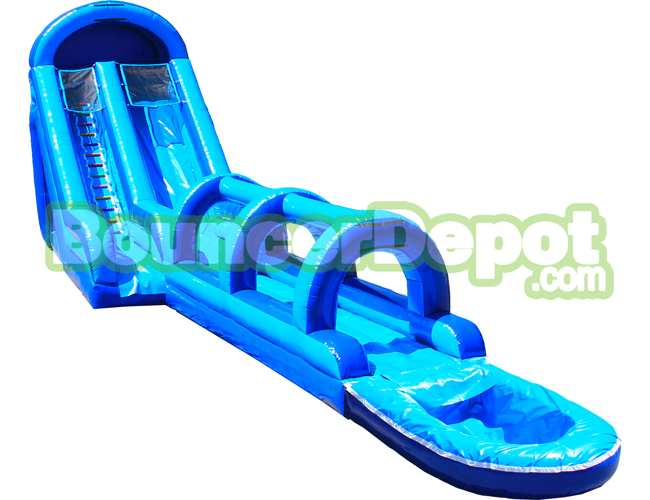 Certainly, you wipe down all your tables and chairs, take your linens to be washed, place decorations in tubs so they are organized for the next event. But what to do with the commercial inflatable water slide? Here are steps to follow so that your water unit will be ready for the next party in tip top shape.
The first step is to detach the water source and if it has a detachable misting unit, take that off as well. This will prevent any accidental punctures of your waterslide when you roll it up. Keep the blower running though, as the air pressure helps get the water out.
Next, rinse off the water slide washing the grass and mud as best as you can from the entire unit. You won't get all of it since it is sitting in a muddy spot but certainly you can get most of it, especially of the steps and slide section. Once cleaned, place your covers on the sliding lanes and the climbing stair and secure using the velcro attachments. Ensure the pool cover is also in place and secured.
You will want to get a little of the water out to start so unzip one of the zippers (while the blower is still on) so the inflatable waterslide becomes soft and squishy but still with air. Use the air
pressure of the blower to push the water out of the slide pool by pressing one side down. Make sure you are wearing waterproof shoes! Once a majority of the water is out, unzip a few more zippers before turning the blower off. Make the air pressure do the work for you.
Once all the water is finally out, roll up your inflatable water slide and pack up the rest of your gear. It is essential that you open the inflatable waterslide as soon as you get back to your shop and dry it. Otherwise, it can smell musty next time you open or even grow mold. Towel dry any puddles and the velcro pieces and when you go to fold it up for storage, leave a zipper open and tip it so any excess humidity or water and evaporate naturally.
Should your commercial inflatable water slide need a cleaning whether from mud and grass or mold, you definitely want to do it thoroughly and properly. Remember, this is your businesses reputation we are talking about and you want to make sure your clients have a great impression of your set ups. Most commercial inflatable waters slides are made from vinyl which is easy to clean but follow these steps for success.
First, inflate the waterslide on a clean, dry surface protected from mud and grass. Hose it down in case there is any debris stuck on it. Using a vinyl cleaner or mild dish detergent, clean your water unit with a soft mop head. Use more soap if needed on really dirty areas for thorough cleaning. Hose it down to wash off the soap and let it air dry for about half an hour. The blower will help it dry but if there are any puddles, just wipe them out.
Lastly, spray your water slide from top to bottom with an antiseptic spray such as Lysol. This will kill any germs that may still be on your slide and will help prevent mold or mildew. Once it is completely dry, roll it up for storage. To keep your commercial inflatable waterslide in the best condition possible, keep it out of sunlight to protect the colors from fading or deteriorating the vinyl. Periodically check your hoses and such for cracks or dryness and replace as needed.
Businesses that are committed to providing top quality products and services ensure their rentals are properly cared for regardless how big or small the job may be. We know you are one of these and hope these steps help you continue on the path for great success and profit. For your next commercial jumpers or waterslide purchase, visit BouncerDepot.com and find the perfect piece to add value to your business.