If you are a party rental company owner who is searching for quality but inexpensive commercial bounce house for sale, it's important to think of several key attributes that will determine whether or not the jumper or inflatable slide in question will actually be worth buying. Buying a jumper is a huge expense – the average jumper that you will find on the market will cost thousands of dollars. Since it is a huge expense, you need to learn how to find the very best water slides for sale, as well as the most worthwhile inflatable jumpers on the market. Here are some good tips to get you started.
Always choose a jumper manufacturer that you can trust.
Look up reviews of the jumper manufacturer in question before you buy any products from them. If the manufacturer has been the subject of frequent recalls, complaints, and worse (such as child injuries), you need to skip the jumpers made by that company. It makes no sense to try to save a thousand dollars if you are going to be running the risk of getting slapped with a lawsuit due to a child's injury.
Make sure that the inflatable jumpers for sale that you are looking at are aesthetically pleasing to children.
No child wants to jump around in a jumper that looks awful. The best jumpers and inflatable slides that are being sold are made out of colorful material, and often have a certain theme associated with them.
Commercial moonwalks for sale should come with exceptional customer service and warranties.
There is such a thing as consumer rights, and you should have the right to great service, and you also should have the right to know whether or not the manufacturer of your moonwalk will also help you out should the jumper not work as well as it had planned.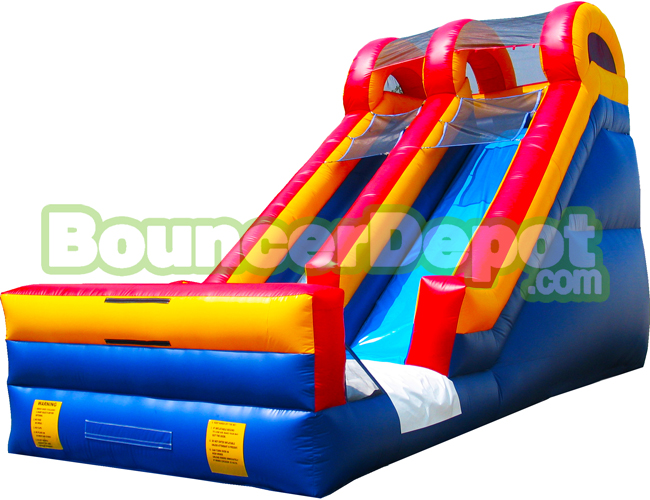 The commercial water slides for sale that will really knock your clients' socks off are the ones that are steep.
Think about it – how many times have you seen a low-to-the-ground slide at a major county fair? Children love being able to slide down a very steep slide. The taller the slide, the better it will be.
Avoid gender-specific slides, jumpers, and moonwalks unless you have a very specific market that you are trying to appeal to.
Though colorful, themed commercial bouncers are always a great way to spice up a party, you won't get as much applause for a moonwalk that is aimed at one gender or another. For instance, a pretty princess castle will make the boys who want to jump around feel awkward.
It's a great idea to choose commercial moonwalks for sale that will mesh well with other party supplies that you have.
Themed party crews are all the rage among upscale and rich party planners. If you have a petting zoo, or if you have a special "jungle themed" party set, try to choose one of the inflatable goodies that are designed with a similar theme in mind.
Ask questions before you buy any inflatable slides.
Ask the customer service rep about the slide's durability, as well as the safety measures that have been put in place with the slide's design. There have been cases in which a cheaply made slide blew away in the wind, or worse, popped while children were jumping on top of it. The more questions you ask about the slide you want to buy, the less chance there is of you buying a super substandard slide.
Ask yourself, "Would I want to jump in this moonwalk?"
If you wouldn't want to jump in the jumper that you want to buy for your clientele, why would they want to jump in it?
Don't skimp on your inflatable slides, jumpers, and moonwalks.
Never look for "bargain bin" water slides for sale just because it's cheap. It's a good idea to splurge on these kinds of equipment because of the fact that it tends to be the main attraction at any party.