When it comes to giving kids a good time, some people can find it irksome to figure out what they'll enjoy most. Sure, you could invest in a clown or a magician, or you could figure out something with a little more flare. One of the coolest things to invest into is commercial bounce houses. If you have a yard, you have a location to fit one of these amazing options, and you'll see children's faces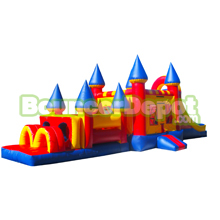 light up in no time. If you're not really sure about these items, consider that they are safe, easy to move around, and cost a lot less than many other options of relative size and fun. There are 3 major reasons why you might want to invest, and they might seem rudimentary at first, but will have skeptics turning into true believers with relative ease.
Bigger – The firs thing you'll notice when looking at commercial bounce houses is that they are bigger than most rentals. If you have a large yard and you want to make sure that you're moving forward with something of adequate size for your home, you'll definitely enjoy the size that these houses can be set up for. Whether you're looking for options with additional components like climbable walls or water slides, or simply more surface area, you'll find them ready to inflate with relative ease.
Better – The commercial items that are for sale to the public are not only bigger, they are just better. The materials are new; they are tested, and made in the USA. You'll notice that they won't have duct tape patching them up from abuse, they'll be ready to inflate and last a long time, with proper care. That's something that the average rental facility can't promise.
Inexpensive – When you compare the cost of a daily rental versus the cost of buying commercial bounce houses, you'll notice that the price is not nearly as high. This option is far more lucrative in terms of time, money savings, and more. You'll find that the options are impressive and you won't have to fork over too much money to procure a good option for your family.
Whether you're throwing a birthday party, or just want to have an additional option for fun in your home, consider looking into commercial bounce houses as a major improvement to any yard. Children of all ages and even adults will find these bouncers to be quite fun, to say the least. They are large, safe, and easy to set up, which is stellar for a party of any size.