Maybe you are wondering what the most popular bounce house is for a party this summer.
Are you thinking about starting a rental business for commercial inflatables? You will need to know which models are the most popular for your business plan. Knowing the most popular will help your business do well with rentals.
Here is what our research found on which commercial inflatables are the most popular, we have also presented an alternative as well.
The 5 most popular
Below is the list of the 5 most popular commercial bounce houses for  2017. Our research of the top 5 should help you determine which one(s) you wish to invest in for your business, or which one to rent for your event.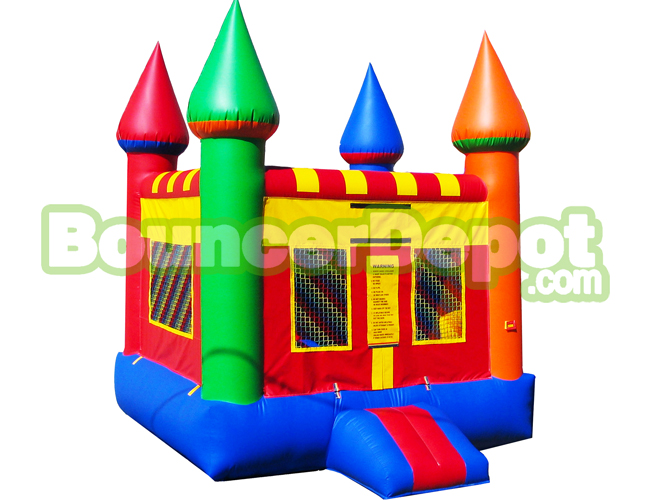 Rainbow Castle Moon Bounce this classic unisex commercial bounce house never goes out of style. Great for your little prince or princess to romp with their friends and siblings while using their imagination to have great adventures; whether it is slaying the dragon to save the princess or becoming a knight, you children young and old will love the Castle Moon Bounce house. Easy to set up and secure to keep everyone safe.
C
ompact Combo Unit is a wet and dry bounce house water slide! The detachable pool and stopper allow this unit to switch from a wet slide to a dry slide in no time; providing hours of fun in or out of the water. It is always a huge hit and never gets old. Even the teenagers and adults love this one especially during those really hot months of July and August. There is just no way to have more fun cooling off than with this balloon house wet or dry slide.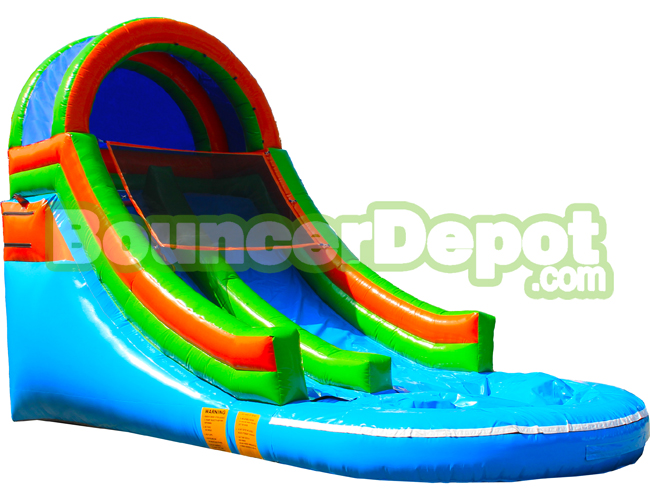 16 Feet Front Load Inflatable Water Slide will make your backyard an oasis for your kids and their friends giving them hours and hours of refreshing enjoyment. The height of this commercial inflatable water slide is 16 feet, however; there is a high platform that the kids stand on that makes it equivalent to an 18-foot slide while taking up less room. This is a great water slide for smaller backyards.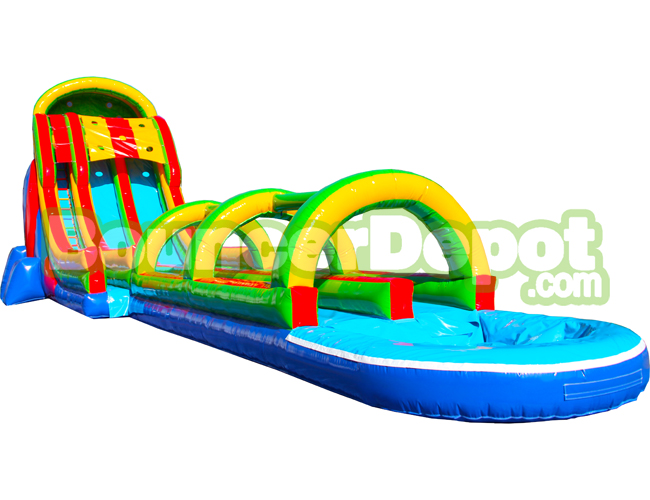 22 Ft Double Lane Slide And Slip N Slide double your fun with this two lane slide that measures 22 feet high and 63 feet long. A real crowd pleaser for both kids and adults, it comes in two parts so that setup and take down is easy. Everyone will want to be at your house with this slip and slide! It can turn a backyard get together into a real backyard party! Excellent inflatable water slide for adults.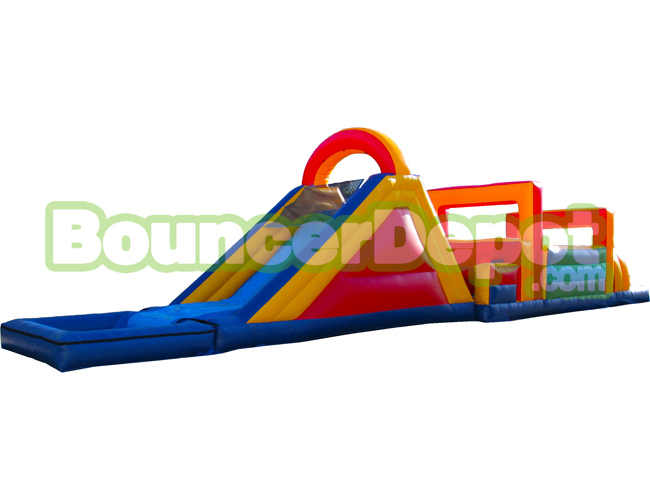 Inflatable Obstacle Course With Pool let the fun begin! This 64 Ft long obstacle course that has a slide and pool at the front, will provide hours of entertainment. Separate into teams or compete for one on one for the best time to complete this inflatable obstacle course.  Comes with 2 pieces and the slide can be used as "stand alone" unit. This unit is great for any type of party or for youth group leadership classes.
An alternative choice is the 18 Ft Tropical Water Slide will have the kids squealing with excitement and fun. It features a ladder that is easy to climb a no bounce top that provides a high back to keep riders safe. The double slide allows two riders to compete in a race or take turns no matter which it is definitely double the fun.
Each of these is easily set up and taken down. You will need someone to attend the unit when it is being used to make sure that users are observing the rules of safety.
What makes inflatables popular
What makes these inflatables so popular is the ease of use; you no longer have to look for a park that may have a swimming pool or some other form of entertainment that will please everyone. Now you can bring the entertainment to your own backyard, block party, or reunion.
These inflatables slides and pools have no hard surface and they are not overly deep. The various colors and themes of inflatables also make them quite popular as they can fit just about any time of party or get together. They are also less expensive than an in ground pool. With the ease of set up and take down they are portable so you can take them to another place. The fact that they are not just for kids, also, makes them very popular since now the adults can join the fun.
Who would rent an inflatable
All types of people rent inflatables; from parents for parties, to event coordinators, to church groups and companies.
Even people who are planning a family reunion want to find something to make it memorable and entertain everyone.  Inflatables are great for this especially the water slides as most reunions are held during the hot months of July and August so a water slide combo makes it easier to combine fun with a way to cool off.
What types of events are inflatable used for?
Inflatable bounce houses and water slides can be used for many events ranging from;
Birthday parties, graduation parties, family reunions, church group outings, youth group outings, corporate events from company picnics to team building exercises
Pretty much any event you can think of that brings people of all ages together is a great event for an inflatable bounce house or water slide; especially since they are so easy to set up and take down.
If you have at least one or two of the top 5 for your business you should have only 1 problem renting them out for parties and other events, that being you do not have enough of them.
Just remember to have fun and keep it safe and your event will be a total splash!