On a hot summer day, nothing is better than sitting in your own backyard relaxing in the cool water of your own private pool.  Many Americans have pools in their backyards whether it is expensive in ground style or just an inflatable kid's pool. Enjoying your weekends in the convenience of your own backyard can be the perfect way to create great family memories.  Pools are great but are not the only option for your own private outdoor entertainment anymore.
There are many other options now to convenient, inflatable fun for your summer weekends.  From inflatable jumpers for sale to even inflatable water slides for sale, you can find a variety of options to spice up your backyard and turn your home into the spot to be.  Commercial bounce houses are normally found in amusement parks and fairs but you can now bring the fun to your own backyard. Inflatable water slides are one of the most entertaining activities on a hot day.  With inflatable waterslides for sale online, you can purchase the ultimate bouncing water slide.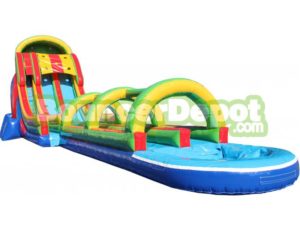 These slides can turn your backyard into the center of summer fun.  These commercial bounce houses are designed to give you the best water slide experience without turning your yard into a swamp.  Instead of just an average pool, now you can have a great waterslide and pool combo in your backyard for hours of summer fun.  Each structure is made from heavy duty, industrial grade material so you don't have to worry about it breaking after a few uses.  The water slides can also be used as dry slides for additional fun when you don't have to have to deal with getting wet.  Consider investing in a commercial bounce house for your backyard for years of family fun and entertainment.
In addition to having a great time with your family waterslides can bring you a decent side income if you consider to rent them out during weekends and holidays. The average rental price for a midsize waterslide is varying from $200-$300 for eight hours. Add another commercial grade bounce to your inventory and you can generate solid income by becoming party rental business in your are. The good thing about having a bouncer rental business is that you don't need to quit your day time job and you can run it during weekends only.  Call us today and we will be glad to answer all your questions. Visit our website at bouncerdepot.com to find the lowest prices on all types of inflatable bouncers.